You look at the clock, it's 4:00 pm and you think, "What the heck am I gonna make for dinner!?" Everyone is hungry and you have to throw something together, but what?? You search through the fridge and the pantry to make some sort of meal, or even worse, call for take out. It doesn't have to be this way. Ever.
Meal planning is an essential tool for every family. We all have to eat at least three times a day (with kids its more like 6-7 times!) so it's unavoidable. Without a plan meal times create a lot of stress. It's the time of day when the children are tired and hungry (and so are the parents!) so if you are searching around for some sort of meal it's no fun. On the other hand, if you have a meal in mind and the ingredients to make it, you can have in on the table in less then an hour.
A meal is on the table fast, everyone gets fed, and you're not stressed out. It's ideal.
This is the reality of meal planning. Taking an hour out of your week to set this up, saves many hours of stress later. Once you accept that, the next step is to come up with a meal planning system that works for you. This part can take some trial and error.
For me, I really love the old fashioned pen and paper system. I keep a binder of recipes that my family enjoys, I print out a weekly meal planning grid, and take 20 minutes each week to fill it out. With the grid for the week, I made a shopping list, and I'm done. I can't tell you how great it feels to get it done, knowing that I don't have to think about it again for the rest of the week. It opens up so much space in my brain to think about other important things.
There are many different ways to go about creating your plan. I am going to share with you some methods that might work for you.
Backwards Meal Planning
This one is really interesting and it could work for someone who is not into the traditional way of meal planning. Mindy Harvey, is the creator of this system and she says…"With Backwards Meal Planning you are able to plan your meals around the ingredients that are readily available, priced well, and in season to create delicious, healthy, and affordable meals for your family."
The general idea is that instead of planning first and shopping second, you do it the other way around. Shop first, then do the planning. This makes a lot of sense to me, especially for people who love to shop at places like farmer's markets, bulk discount stores, or closeout stores that always have different things.
Simply Scheduled On the Go
This is a meal planning system from Simple Healthy Tasty for families who are always on the go. If you and your family are constantly traveling, spend the summer camping, or if you need to travel often for business or family situations, then this is a great system to learn.
I love that this eBook includes recipes for really simple meals that can be made while you are camping or traveling.
Frugal Real Food Meal Plans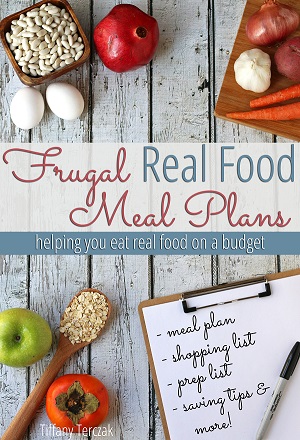 When I talk about eating real food and avoiding packaged items, one of the biggest concerns I hear is that real food is too expensive. The reality is that if you plan it properly it's actually cheaper. Frugal Real Food Meal Plans will help you to create meal plans with the added goal of saving money. You can also download their worksheets and printables to do this on your computer or print them out and write it by hand.
List Plan It
List Plan It is a more traditional way of creating meal plans with a modern twist. There are two ways to use List Plan It. The first way is to download their Meals ePlanner which is a collection of different worksheets in a PDF format. I really love their worksheet that helps you to create a list of your families regular favorites with a place to notate where to find the recipe. I will be using this worksheet as a part of my regular system going forward!

List Plan It also has an online meal planning subscription service. The neat thing about it is that it's not just for meal planning. There are pre-made lists for things like cleaning routines, weekly schedules, and  managing your family finances. All of your lists are kept in the same place for easy reference. I love to be organized so this service looks like a really useful thing to have.
Here's a quick video I made that will show you how List Plan It membership works. I made this video, literally after 10 minutes of using the site and looking around so you know it's very easy to learn.
These systems are all very different. Some may work better for you then others or you may even create your own system. Honestly, I use a version of all of these systems at different times. While traveling for the summer you may use a system like Simply Scheduled on the Go or if you didn't have time to pre-plan one week you may use Backwards Meal Planning. I think it's really valuable to use a version of these systems for all the different seasons of life.
Now through Monday April 27th, you can get all of these resources for less then they cost to purchase individually (only $29) because they are part of the Ultimate Homemaking Bundle. If you are still looking for the meal planning system that works best for you, this is a great opportunity to try a few methods. You'll also get a 90 day free trial subscription to List Plan It with your purchase.

What meal planning system do you use?
(Visited 657 time, 1 visit today)