This week was my daughter's 3rd birthday. I can't believe it, I feel like it was just yesterday that she was a little infant. Birthday's always need cake – even with a healthy mama – it's just a healthier version of cake. Last October I did some cake experimenting for my husband's birthday and came up with a great paleo chocolate cake which have since made for my sister's baby shower and now my daughter's birthday (as cupcakes).
Recently, another mama asked this question on my Facebook page and there were A LOT of great looking cake ideas posted. Today I will share with you my go to paleo chocolate cake and the suggestions from all of my Facebook fans. I have yet to try them all so I'd love to hear from you if you have the chance to try them. I am dying to find a vanilla cake recipe that we like so I will be testing these out myself as well and will post an update when I do.
Paleo Chocolate Birthday Cake
3/4 cup coconut flour
1/4 cup cacao powder
1 teaspoon baking soda
1/2 teaspoon sea salt
10 eggs
1 cup coconut oil
1 cup maple syrup
2 tbsp honey
1 tablespoon vanilla extract or powder
Instructions:
Preheat oven to 325 degrees F
Grease a 9 x11 pan with coconut oil
Combine coconut flour, cacao, baking soda and salt in a small bowl and set aside.
In the bowl of a stand mixer, with whisk attachment, whisk the eggs.
Add the oil, maple syrup, and vanilla extract and continue to mix until combined.
Add the dry ingredients into the wet ingredients.
Mix on low speed until the dry ingredients are incorporated – about 30 seconds. Scrape down sides of mixing bowl and beat cake batter on high speed for about one full minute so that the batter is fluffy.
Bake for 30 minutes (in 9×11" pan) or until a toothpick inserted in the center comes out clean
I have never had good luck getting a coconut flour cake out of a pan so I left this cake in the baking dish and iced it in the dish.
More Paleo & Grain-free Cake Recipes to Try
Princess Party Birthday Cake, The Unrefined Kitchen
Vanilla Bean Cake, from The Spunky Coconut – This cake is not paleo because it contains beans but it is grain-free
Strawberries-n-Cream Bundt Cake, Healing Cuisine by Elise
Dark Chocolate Berry Cake, The Spinach Spot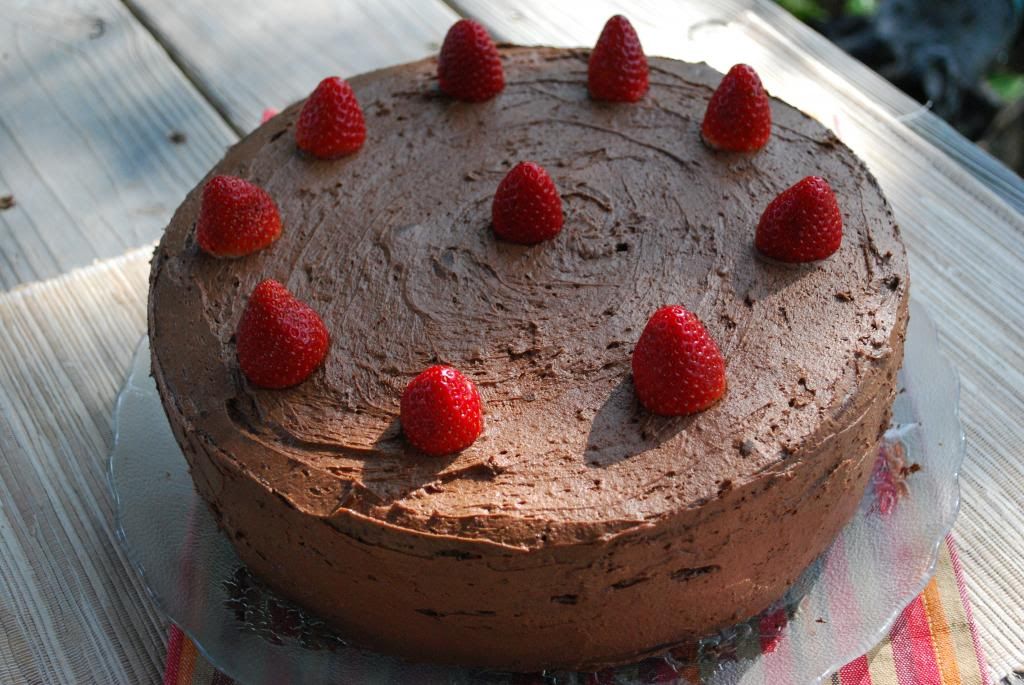 Banana Cake, Elana's Pantry