Chive blossom vinegar is a simple way to infuse your dressings and sauces with the flavor of chive blossoms. If you have chives in your garden you will start to see beautiful pink flowers open up in late April and May. You may have an abundance of them! If you are like me, you might wonder what you can create with them.
Chive blossom infused vinegar is a really easy way to enjoy their flavor. With your finished vinegar you can add it to salad dressings and sauces. The flowers create a pink colored finished vinegar which adds to the enjoyment.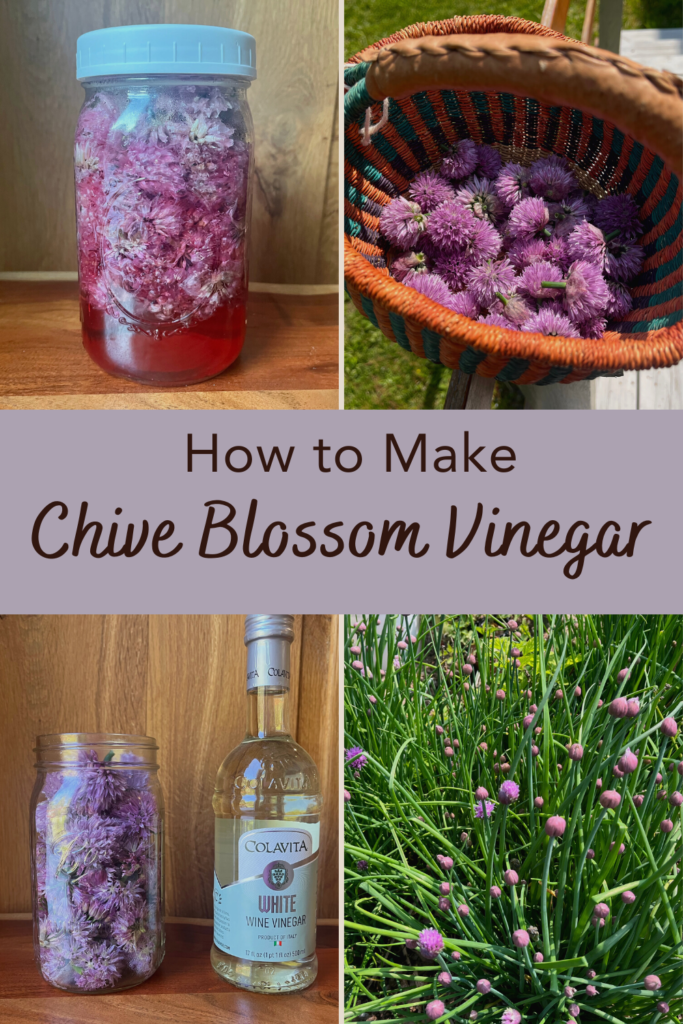 How to Make Chive Blossom Vinegar
Collect your blossoms just after they have bloomed by snipping the top of the chive stalk. You can still use the rest of the chive stalk as you would normally.
Lay the Blossoms out on a clean towel or pan (preferably outdoors) to let any bugs leave the blossoms.
If you choose to, put them in a bowl and rinse with cold water (I did) and then lay on a clean towel to dry.
When they are mostly dry, fill a mason jar with the blossoms to the top.
Pour your choice of vinegar over the blossoms and use a spoon to gently push them down (save the empty vinegar bottle). I used white wine vinegar so that I can enjoy the pretty pink color of the finished infused vinegar.
Let this sit from 3 days to 2 weeks. The longer you let it sit, the more chive flavor you will have.
After the infusion time is up, strain out the blossoms and compost. Use a funnel to pour the vinegar back into the original vinegar bottle. Use in recipes as you wish!
Want more herbal recipes? Download our pdf booklet of herbal recipes for skin care here.
Thank you for reading this post, don't forget to subscribe.
You might also like these posts...