Gluten free pumpkin pie is just as good (if not better) then a typical pumpkin pie. It is also an easy pie recipe to make. Somehow I became the pumpkin pie expert in our family. I don't know exactly how that happened… I seem to remember one Thanksgiving many years ago my Grandmother loved the pie I made. After that I was required to make one every year! This pie recipe has been updated and refined year after year.
A pumpkin pie crust is typically made with wheat flour but this pie is make with a simple almond flour crust, making it gluten free. There is no rolling required so it's quick and easy to put together.
You can mix together this pie filling in a bowl with a whisk, a food processor, a vitamix or a hand mixer – whatever you prefer.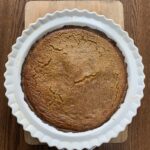 Gluten Free Pumpkin Pie
Print Recipe
Instructions
Preheat oven to 350 degrees.

Mix all ingredients together and press into a 9″ pie plate.

Bake for 10 minutes or until lightly browned. Let cool before filling.

Next, mix together the filling.

Preheat oven to 425°.

Add all filling ingredients to a bowl and mix with a mixer or a whisk until blended well.

Pour the filling batter into the pre-baked pie crust.

Bake in oven for 15 minutes at 425° then reduce temperature to 350° and bake for 40 to 50 minutes or until knife inserted near center comes out clean.
Gluten Free Pumpkin Pie Tips
If you have extra filling that will not fit in your pie crust (sometimes this happens to me). bake it in a ramekin. It comes out like a pumpkin custard and it's quite delicious on it's own (or with whipped cream on top).
Serve this pie with whipped cream or vanilla ice cream for a real treat.
You can also bake this in a square or rectangle baking dish and cut into squares. Press the crust into the bottom of the pan only. Refrigerate before cutting.
Canned pumpkin or a roasted whole sugar pumpkin both work great in this recipe. If you use a whole pumpkin, roast it and puree it before adding to the pie filling recipe.
Find more gluten-free recipes on this page.
Thank you for reading this post, don't forget to subscribe.
You might also like these posts...