Would you like to learn how to make an herbal decoction? Decoctions are long simmered teas that are ideal for extracting the properties of hard roots, dried berries, barks, and seeds. They are much stronger in flavor than tea or an herbal infusions and also more concentrated. If you have made an herbal syrup, like elderberry syrup, you have already made a decoction. You will need some dried herbs, water, a pot, and a strainer.
What types of herbs would you use to make a decoction?
Elderberries
Dandelion root
Licorice root
Cinnamon bark
Burdock root
Ginger root
Echinecea root
And many more…
How to Make Step by Step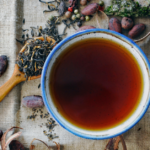 Herbal Decoction
Print Recipe
Instructions
Place 3 tablespoons of dried herbs into a small sauce pan.

Cover the herbs with a quart of cold water.

Slowly heat the water to a simmer and cover.

Allow to gently simmer for 20 to 45 minutes.

Strain into a quart jar, but do not discard the herbs. Some water will have evaporated, so your strained liquid will not fill the jar.

Pour additional hot (but not boiling) water over the herbs in the strainer until your jar is full.

Once your decoction is finished simmering, you can infuse more delicate leafy herbs or flowers into the hot water that cannot stand up to the lengthy simmer time, straining the mixture again after another 10 to 15 minutes.
Tips & Tricks
If you make a larger volume of a decoction, know that most herbal infusions and decoctions will last up to a week in the refrigerator and can be frozen to last longer.
Add raw local honey, fruit juice, or stevia leaf powder to sweeten.
Use your decoction to make an herbal syrup, like elderberry syrup.
Thank you for reading this post, don't forget to subscribe.
You might also like these posts...