Do you want to learn how to make kombucha tea at home? If you are new to fermenting, this kombucha recipe is an easy beginner project. It's low maintenance and creates a super healthy brew that tastes delicious. If you are already drinking kombucha that is store bought, this will save a lot of money and provide a lot more probiotics. Store bought brands are pasteurized which will kill some of the beneficial bacteria in a fermented brew so homemade is much better.
What is Kombucha?
Kombucha is a fermented beverage made from two main ingredients – tea and sugar. In addition, you will need a "scoby" which is what makes the magic happen. A scoby is a combination of bacteria and yeast needed to create the fermentation process. Similar to using a starter for sourdough bread or kefir grains for kefir, a scoby is how to make kombucha.
What you Need to Get Started
A large glass vessel for brewing (1.5 gallon+)
1/4 cup Loose Tea – black or green
1 cup Organic Sugar
Kombucha scoby and starter
Small empty kombucha bottles with tight fitting lids or swing top bottles like these (for the second ferment)
Fruit Juice (for second ferment), Grape is a popular choice
Plastic mesh strainer (like this one)
To get started, you need a vessel that holds at least a gallon of tea (1.5 gallon works well). Make sure the cover is either glass or plastic, never metal. Metal should not come in contact with your scoby. I purchased mine at Home Goods but it looks similar to this one.
Acquiring a scoby is the most important part! Ideally, you are lucky enough to get one locally or from a friend. If not, you can purchase a dehydrated scoby online. You will need to follow the instructions that come with it to get it going for your first batch. If you need starter for the dehydrated scoby you can use a bottle of store bought kombucha.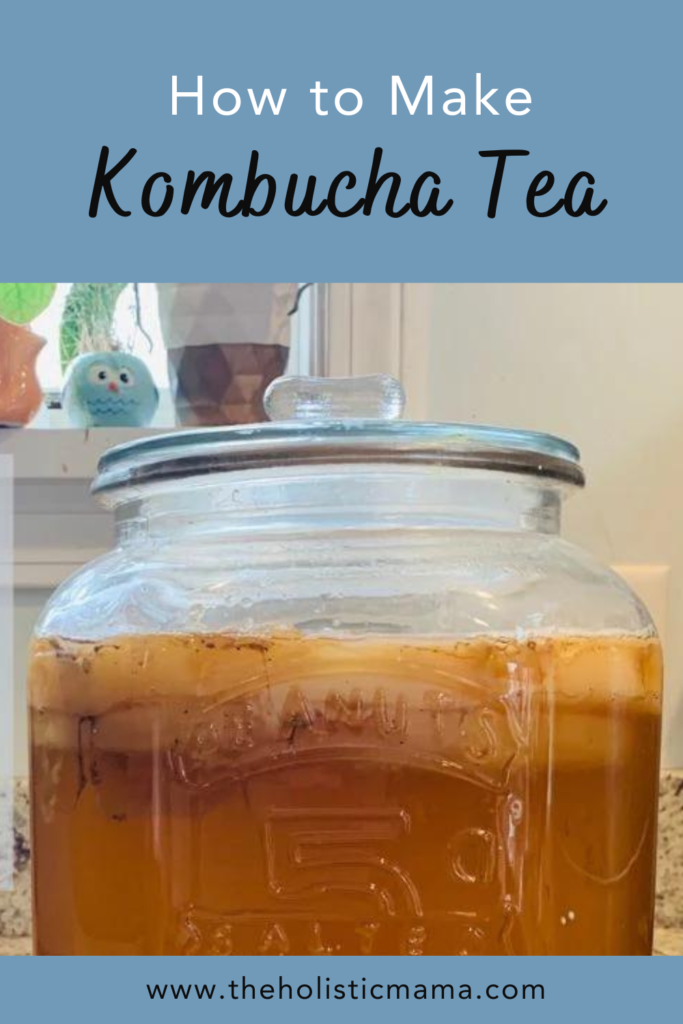 How to Make Kombucha: Your First Batch
Brew Black or Green Tea
It is smart to do this step first to allow the tea time to steep and cool before you are ready to use it in this kombucha recipe.
Black tea is traditionally used for kombucha but many people (including me) use green tea and it works nicely. Brew enough tea that will fit in your size vessel. If you are using a 1.5 gallo vessel, a gallon of tea is a good amount.
Tea Ratio
Use 1/4 cup loose tea per gallon of water. While the tea is still warm, add 1 cup sugar and stir to combine. You will need one cup of sugar per gallon of tea. Make sure you use organic tea and sugar to avoid any harmful chemicals in your brew.
Sterilize Your Vessel
Thoroughly clean your vessel, even better run it through a hot dishwasher to properly sterilize it.
Scoby and Starter Kombucha
Next, place your scoby and starter kombucha into the vessel. If you've gotten a hand-me-down scoby, the previous owner will give it to you in a small amount of their brew. This helps to get your batch started. Alternatively, you can use a store bought bottle of kombucha to get it going.
Add the Sweetened Tea
Once your tea is fully cooled, you may pour it into your vessel. Now we wait. Let this brew for two weeks. The ideal temperature for fermenting your brew is between 68-78 degrees Fahrenheit. If you house is cooler or you find your brew is not fermenting you can use a seed mat like this one to keep it just a little bit warmer and encourage fermentation.
The Second Ferment
After two weeks have passed, your kombucha is ready. You can drink it on it's own or you can follow this kombucha recipe and start a second ferment to flavor it and to make it fizzy (most people do).
Bottling Your Kombucha
Now it's time to use the small bottles, empty store bought kombucha bottles work perfectly or larger ones like this work well too. Use a funnel and a plastic mesh strainer to fill your empty bottles with the brewed kombucha tea. Use the strainer to catch any large clumps from going into the second ferment.
Fill your bottles about 3/4 of the way with kombucha tea. Then, fill the remaining 1/4 of the bottle with organic fruit juice and close tightly with a plastic lid.
Let this sit for at least 2-3 days and it will be ready to drink! It can sit longer which will reduce the sugar content. If you would like to slow down the process you can put it in the fridge.
Start Your Next Batch of Kombucha
Once you have bottled all your kombucha into the second ferment, now it's time to start a new batch in your fermentation vessel. When first learning how to make kombucha be sure to refer back to the instructions and follow them closely until you have done it many times successfully. Be sure to leave some kombucha in the jar as your starter and add a new batch of sweetened tea. In two weeks, you can do this again!
Kombucha Flavors
You can be creative with your kombucha recipe by using new tea and juice combinations to find flavors you like. Make sure you use mostly green or black tea and then you can add herbs.
Some herbal flavors you might likeI like to try include:
rose
rooibos tea
chammomile
elderberry
Add a scoop of our Herbal C Tea in addition to the green tea for a fresh fruity flavor.
It's fun to make kombucha tea at home and It's a great way to get kids to consume a healthy fermentation because it tastes good. If you are looking for more ways to get fermented food in your diet, try making fermented garlic. Use it in place of regular garlic in your recipes to get the added benefits of the fermentation. Use in hummus, salad dressings, soups and more.
Thank you for reading this post, don't forget to subscribe.
You might also like these posts...