Magnesium deficiency is a widespread issue. It effects more then half of the US population and it can greatly effect your health. There are some amazing things that have happened for people just from correcting this problem. Magnesium is essential for over 300 different chemical reactions in the body. This includes maintaining your energy level, helping you relax, and sustaining the health of your heart and blood vessels. If you are wondering if you might be deficient read this post: Are you magnesium Deficient?
Transdermal Magnesium Therapy
Most dietary supplements are taken orally but that is not the only option. Transdermal absorption – or absorption through the skin – is another way that some supplements and medicines can be taken. The advantages of transdermal absorption are varied. Including more rapid entry into the bloodstream, bypassing the digestive tract, and increased absorption and bioavailability. Many people have inefficient digestive systems due to poor diet, stress, and medications. Those factors make transdermal absorption a much more effective method of replenishing magnesium in the body. This may seem like a new concept but there are some very common therapies used this way, such as a nicotine patch or a hormone patch. 
When a magnesium supplement is taken orally it is not fully absorbed due to its laxative nature. The amount of magnesium that is absorbed from taking a magnesium tablet may only be 10-30% of the amount taken – which isn't very good. Some people cannot take the required amount of magnesium they need to correct their deficiency orally because it can cause diarrhea (for others, the laxative effect may be helpful in the case of constipation). Magnesium lotion, magnesium oil, or adding magnesium flakes to bath water are all great ways to use magnesium transdermally. You can purchase any of these options or easily make your own lotion with the magnesium flakes. Magnesium oil on its own can irritate delicate skin but this lotion recipe will avoid that problem.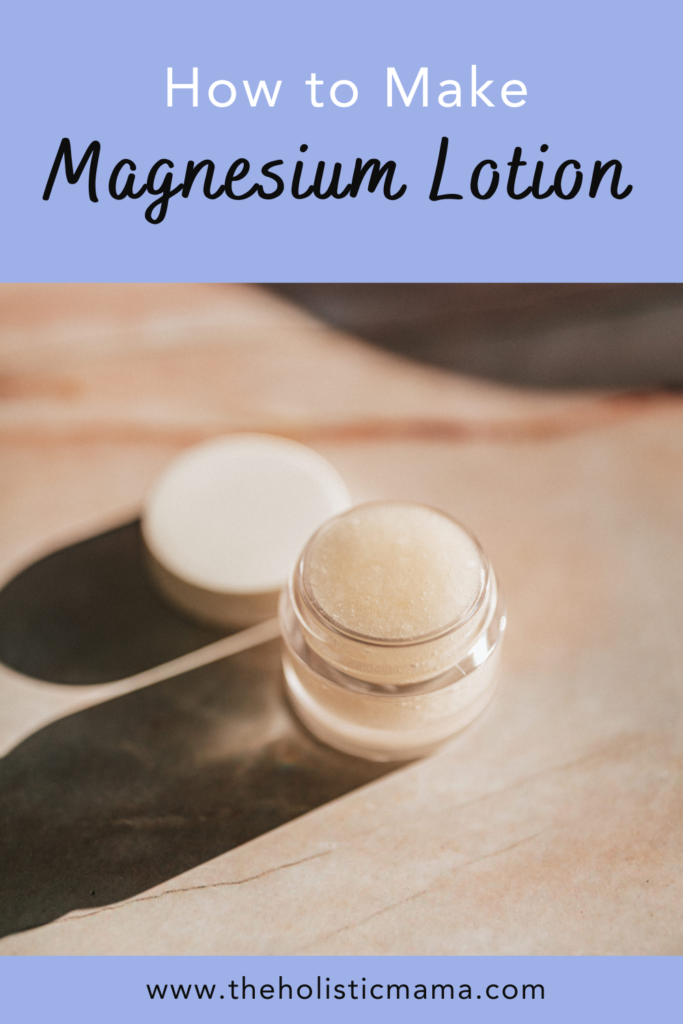 Magnesium Lotion Recipe
Place magnesium flakes in a bowl, pour boiling water over it, mix and set aside. In a glass measuring cup, add the coconut oil, shea butter, and bees wax. Place in a pot as a double boiler with a few inches of water until melted. Use an immersion blender to mix the oils and slowly pour in the dissolved magnesium flakes until all combined. Refrigerate to set lotion, keeps at room temp for 2 months or more. Learn more about transdermal magnesium therapy with this great resource by Dr. Mark Sircus, called Transdermal Magnesium Therapy: A New Modality for the Maintenance of Health.
Thank you for reading this post, don't forget to subscribe.
You might also like these posts...