Sore throat lemonade is a helpful remedy for sore throats and a minor cough. It has a pleasant taste and feels soothing on an inflamed throat. Each ingredient in this drink has healing properties that help with colds and viruses.
Lemon help to break up mucus and relieves some of the pain. It also contains vitamin C which is helpful for fighting colds.
Honey is very soothing for coughs and sore throats. You can even use it on it's own as a cough remedy. Manuka honey has additional healing properties and should be reserved only for medicinal use. A teaspoon of manuka honey is a wonderful sore throat remedy. You can use any type of honey for this purpose, it reduces inflammation and soothes irritation. Natural occurring enzymes in the honey also help the body heal.
Apple cider vinegar is helpful to thin mucus and for alkalizing the body. In addition raw apple cider vinegar contains helpful probiotics.
Acerola cherry is very high in vitamin C and stimulates the immune system. The antioxidant power helps heal from illnesses. Natural food sources of vitamin C are preferable to supplements made with ascorbic acid.
An easy and delicious way to get all of these health benefits into one drink is to make this simple recipe for sore throat lemonade.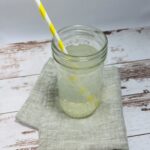 Sore Throat Lemonade
Print Recipe
Ingredients
2

tbsp

Lemon juice

1

tbsp

Apple Cider Vinegar

2-4

tbsp

Raw Honey

1

tsp

Acerola cherry powder

1-2

drops

Stevia liquid (optional)
Instructions
Pour honey into a mason jar with a small amount of warm (not hot) water to dissolve.

Once dissolved, add the rest of the ingredients.

Fill the jar the rest of the way with filtered water and stir until completely mixed. Sip this throughout the day.
Thank you for reading this post, don't forget to subscribe.
You might also like these posts...