Have you ever heard of the oil cleansing method? Whether your skin is dry, normal or oily, there is a certain amount of oil on your skin. The oil cleansing method dissolves the oil on your face and also carries away any dirt that you don't want on your face to clog up your pores and replaces it with clean oil from the cleanser to re-nourish your skin. It might seem strange to wash your face with oil but when you use soap on your face it strips your skin of all the oils – including the good oils – and creates more dryness and more oil which is why many people have "combination skin."
What is the Oil Cleansing Method?
The oil cleansing method involves two main ingredients – Castor oil and olive oil. Castor oil is an extremely good cleanser because it will remove dirt and dead skin cells from your pores without stripping the natural oil balance of your skin. Olive oil is a great skin nourishing oil that provides lots of anti-oxidants.
When you was your face with oil, the ratio of extra virgin olive oil and caster oil will depend on your skin type. Here are the general rules for mixing the oil according to skin Type:
| | | |
| --- | --- | --- |
| Skin Type | Extra Virgin Olive Oil | Caster Oil |
| Dry | 3 tablespoons | 1 tablespoon |
| Normal | 2 tablespoons | 2 tablespoons |
| Oily | 1 tablespoon | 3 tablespoons |
You can also add other oils to the mixture for other healing properties like tea tree oil, lavender oil, rose hip seed oil, or any other essential oil. I add a few drops of tea tree oil to my cleanser which is great if you have acne prone skin.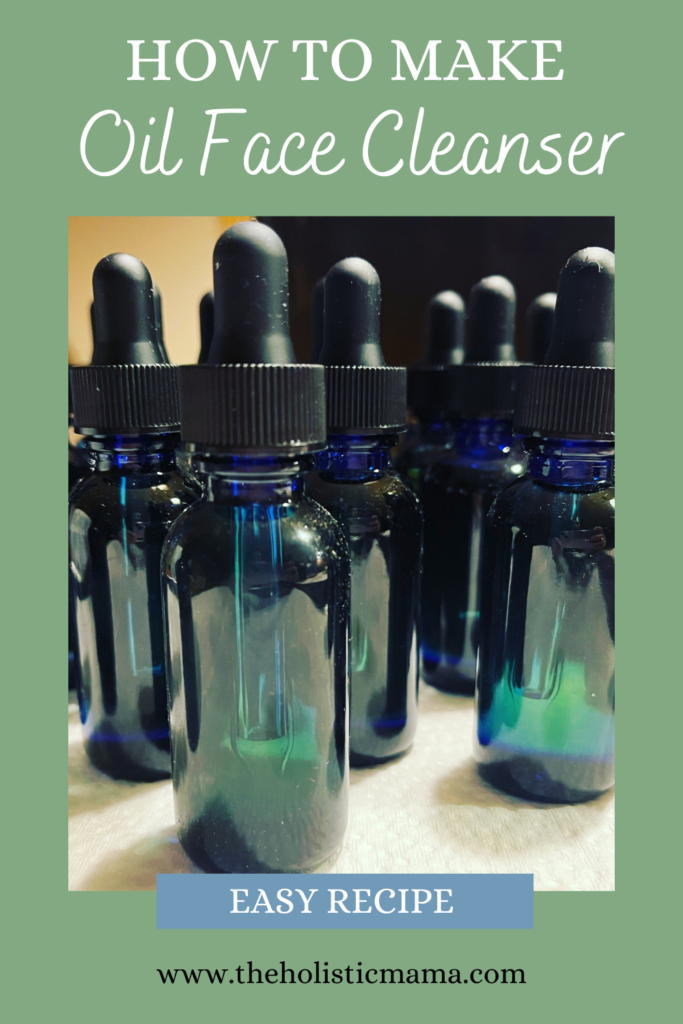 How to use the Oil Cleansing Method?
Once you have your oil mixed up you are all set to wash your face. Here are the steps:
Start with a dry face and put a a generous amount of the oil mix into the palm of your hand then gently massage it into the skin on your face and neck.
Once you have massaged the oil onto your face, get a wash cloth and run it under hot water in the faucet. Lay the cloth over your face as a bit of a steam treatment to let the olive oil soak into your skin.
After a minute or so, use the cloth to wipe off the excess oil from your face.
This will remove makeup, dirt, and oil from your skin. It's so moisturizing that some people even feel they don't need any moisturizer after they do this cleansing method. If you have dry skin you will likely still want to follow with a moisturizer.
It's easy to mix your own cleanser at home because it does not require a lot of ingredients. We have an oil cleanser in our shop if you would rather purchase the oils already mixed and measured. Click here to purchase our Oil Cleanser.
Lastly, If you want more skin care recipes to try making yourself, download our skincare recipe book here.
Thank you for reading this post, don't forget to subscribe.
You might also like these posts...