Basil pesto is the perfect way to preserve fresh basil from your garden to use all year round. Pesto can be frozen in ice cube trays and then put in a freezer bag so you can use a few tablespoons at a time.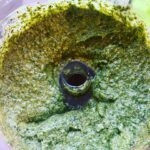 Basil Pesto Recipe
Print Recipe
Ingredients
2

cups

packed fresh basil leaves

from your garden is best!

2

cloves

of garlic

1/4

cup

walnuts or pine nuts

2/3

cup

organic extra virgin olive oil

1/2

cup

freshly graded Parmesan cheese

pinch

of sea salt
Instructions
Add the basil, garlic, and walnuts to the food processor and process until everything is chopped. Sometimes the garlic is stubborn so I cut it into slices before throwing it in.

Using the hole in the top of the processor, slowly pour in the

olive oil

while running the food processor to incorporate the oil.

Then add the Parmesan and salt and process until combined
Ways to Use Basil Pesto
The traditional way to eat it is on pasta but since we are low to no grain in our house I have been using it in many other ways. Here are some ideas:
Use it as a dip for carrots & cucumbers
Lightly saute vegetables and coat them with the pesto – I made zucchini this way and it was awesome
Add to scrambled eggs
Add into meatballs or burgers
Spread on top of a baked potato
Spread on top of baked or sauteed fish – works great with flounder, cod, and other white fish
Add into chicken salad
Add pesto into your favorite homemade salad dressing – works great with just oil and vinegar
Spread on top of a whole chicken and roast it
Thank you for reading this post, don't forget to subscribe.
You might also like these posts...