Easily learn how to make vanilla extract yourself (its a lot cheaper then buying it). Homemade culinary extracts are simple to make and only require two ingredients and time. Interestingly, the process to make a culinary extract is the same process as creating an herbal medicinal tincture.
What do you need to make Vanilla Extract?
You will only need two ingredients to make this staple baking ingredient.
Vanilla Beans
First, purchase some high quality, preferably organic, vanilla beans. There are a few different varieties of vanilla beans you can purchase. A popular choice is Madagascar vanilla. Other options include Mexican vanilla and Tahitian vanilla, any of these three types will work.
80 Proof Alcohol
Extracts and tinctures are made with a solvent to extract the flavors and medicinal properties of the herb or food. Most extracts are made with alcohol but they can also be made with vegetable glycerin for an alcohol-free version. Herbal tinctures are typically made with 80-100 proof vodka because it has little taste on it's own. When making vanilla extract, many bakers prefer to use brandy, bourbon or rum, to make the extract even more flavorful.
How to Make Vanilla Extract
Follow this below detailed recipe to make your own extract at home.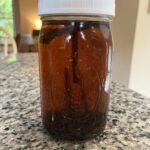 Homemade Vanilla Extract
Print Recipe
Equipment
1 Glass jar with tight fitting lid
Ingredients
6

vanilla beans

about 1/2 ounce or 15g total

1

cup

80 proof vodka

bourbon, brandy, or rum
Instructions
Prepare the vanilla beans by cutting each pod long ways to expose the inner vanilla past. Cut into one inch pieces.

Add the cut up vanilla beans to your clean glass jar.

Pour your alcohol of choice over top of the vanilla beans and close tightly with the lid.

Shake the jar vigorously to get things moving along.

Store the jar at room temperature out of direct sunlight. Shake about once per week or once every couple weeks. Vanilla can be ready to use in as little as 8 weeks, but if you can wait at least 6 months you will get optimal flavor and 12+ months is even better!

When you are satisfied with the flavor after some time, strain out the beans and bottle the extract in a jar to use in your kitchen. If you have only waiting 8 weeks, you can probably use the beans to make another batch. If you did a longer infusion, discard the beans and purchase new ones for your next batch.
As you can see, it's quite similar to making an herbal tincture. Below you can see that processes in step by step detail as well.
Herbal Tincture
Print Recipe
Ingredients
200

g

dried or 300g fresh herb chopped into small pieces

1

quart

solvent – alcohol

80 proof vodka is ideal, glycerin (3 part glycerin 1 part distilled water), or vinegar
Instructions
Place herbs in a large, clean glass jar and pour on the solvent ensuring that the herb is covered.

Close and label your jar with the name of the herb, solvent, and the date.

Shake the jar for 1-2 minutes.

Store in a cool dark place for at least 10-14 days (or longer), shaking the jar every 1-2 days.

After 14 days you are ready to strain out the herbs. Pour the jar through a mesh strainer or cheesecloth. (There are some new fancy tools for this I have found like this

herb press

that helps make it less messy and extracts every last drop).

Squeeze out the herb to get all remaining liquid.

Discard or compost your herbs.

Pour your finished tincture into a clean dark class bottle using a funnel.

Close and label your jar with the name and date of your tincture.
Infusion Time for Vanilla Extract
Herbal tinctures are complete and ready to use in 4-6 weeks. While you can use your vanilla extract after 8 weeks, you won't get the optimal flavor. Your vanilla will be stronger and more flavorful if you let it infuse for 6-12 months. Yes, it seems like a long time but it's worth it!
Thank you for reading this post, don't forget to subscribe.
You might also like these posts...