Should you buy a kids non-toxic mattress? Most naturally minded parents have at least considered purchasing a non-toxic mattress for their child. It is a topic that has become pretty well known in the last few years. The reality is, it's a big purchase and no one wants to waste money on gimmicks or kids product trends so you may ask yourself –  is a kids non-toxic mattress really necessary?
The Main Problem with Conventional Mattresses
As of July 1, 2007, all U.S. mattresses are required to be flame retardant. The result is that manufacturers are coating mattresses with highly toxic flame-retardant chemicals. Chemicals like polybrominated diphenyl ether (PBDE), Boric acid, and antimony (a known carcinogen) are all over your mattress. What is even worse is that this does NOT have to be disclosed in any way. The Consumer Product Safety Commission has studied chemically treated mattresses and found that the chemicals do, in fact, leech from the mattress. This means that when your child sleeps on a conventional mattress she will be absorbing these chemicals all night long.
Why It's A Problem for Children
People like to talk about how they never had an "organic" mattress growing up so it's really not necessary for their own children. The reality is that mattresses before 2007 were not a problem because the flame retardant mandate was not in effect. This is a new problem that effects our children and was not something our parents had to think about. Most children sleep 12 hours per day at a minimum. The shear amount of time they spend in bed is a huge concern. Some of the chemicals used on mattresses, like PBDE's, get into our system and never leave the body except when shed in breast milk. These toxins will be building up in your child's body and stored in fat cells for years upon years if they sleep on a conventional mattress. Every new parent has heard about SIDS, right? Well, Dr. James Sprott, OBE, a New Zealand scientist and chemist, states that crib death is caused by toxic gases, which can be generated from a baby's mattress. There has always been little to no explanation for the causes of SIDS and this theory is pretty solid.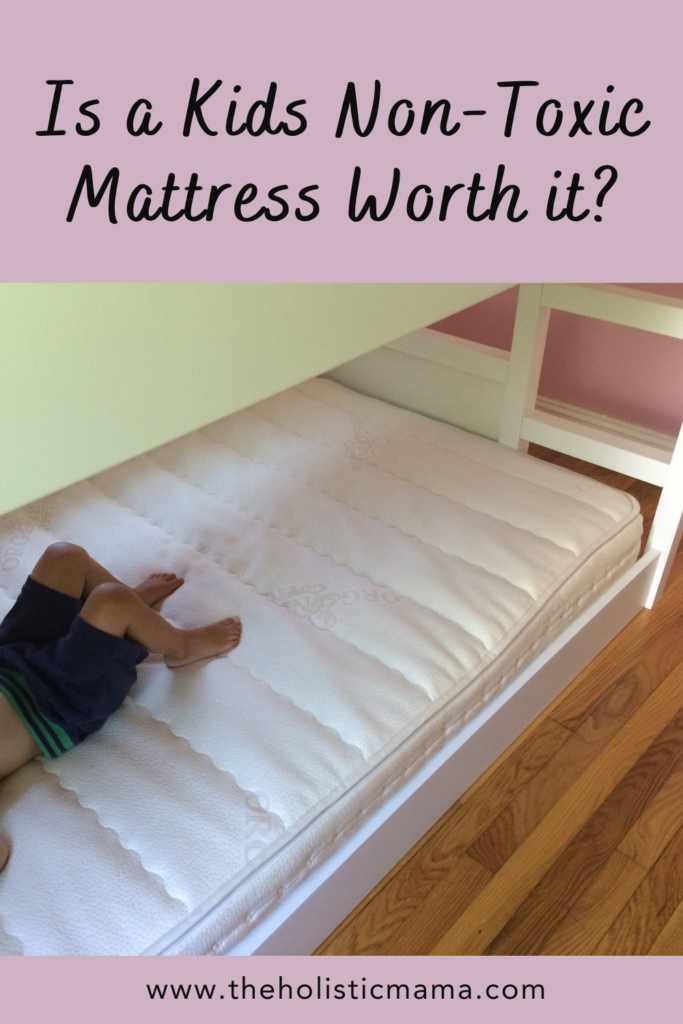 The Best Non-Toxic Mattress
When it comes to non-toxic and organic mattresses, there are a lot of choices. You'll see spring mattresses made with organic materials, latex, gel, and foam mattresses. The safe mattress alternatives also range in price point starting at around $1,000 all the way up to $8,000+ depending on size and thickness. When I first began my research on purchasing a kids non-toxic mattresses, these are the factors I considered:
Price
Back Support
Materials used
How long it will last
Hypoallergenic
After searching all the different types of mattresses the one that made the most sense to me and fit all my criteria was natural latex. The first few companies I researched were very expensive. The cost of a twin mattress was at least $3,000 or more. This was extremely prohibitive and I thought I'd never be able to make the switch. I was lucky enough to find a company called Plush Beds that makes a natural latex mattress that lives up to my standards for quality and price. The twin mattresses I bought for my children were just around $1,000 each including shipping and some extras like pillows and sheets. Click here to learn more about the Botanical Bliss mattress from Plush Beds. I also did a review on their latex pillow, click here if you want to check that out.
Thank you for reading this post, don't forget to subscribe.
You might also like these posts...