What to do with an abundance of cucumbers? Make sweet refrigerator pickles! There are a two ways to make pickles, either with vinegar or with a salt brine. Salt brine fermented pickles are equally delicious in a totally different way. Salt brine pickles are fermented and have a sour flavor. They offer the added health benefits of probiotics which make them a superfood in my opinion. Fermented pickles are made with the same process as this fermented garlic.
If fermenting isn't your thing or you are not ready to try it, this is a great starter pickle recipe. Sweet refrigerator pickles are also an easy sell with kids (because of the gentle sweetness of course). They are made with a vinegar and sugar brine and also offers health benefits from the fermented apple cider vinegar. It's the perfect way to use up lots of garden cucumbers in late summer.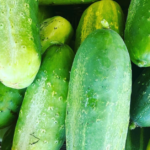 Sweet Refrigerator Pickles
Print Recipe
Ingredients
1/2

cup

hot water

3/4

cup

sugar

1

tbsp.

salt

3/4

cup

raw apple cider vinegar

a handful of fresh dill sprigs

1-2

cloves

of garlic chopped

1/2

onion

chopped

Cucumber slices

enough to fill jar
Instructions
In a glass measuring cup, mix together the hot water, sugar, and salt.

Stir together the water and sugar until it's completely dissolved. Let this sugar water cool down while you chop the vegetables.

After that, fill a one quart mason jar with the chopped vegetables until full to the top.

Now it's time to add the vinegar to the cooled sugar water and stir it together.

Pour the prepared brine over the vegetables in the mason jar and cover.

Let this sit in the fridge at least overnight or for 2-3 days before serving.
These pickles will last quite a while in the fridge which also helps to preserve the cucumbers if you have too many. It can be served as a side dish as you would a cucumber salad and not just as a condiment.
Tips & Tricks
Make a larger batch of the vinegar brine mixture ahead of time and keep in the fridge so it's ready to use quickly.
Keep a good supply of quart size mason jars with plastic lids on hand for when you have the urge to make these!
Thank you for reading this post, don't forget to subscribe.
You might also like these posts...