When making strawberry recipes, don't throw out the tops! Make Strawberry infused vinegar or other creative infusions. Strawberry tops are edible, if you are making a smoothie, throw the whole thing in top and all. However, remove strawberry tops for other recipes, such as strawberry jam, to achieve the desired texture and flavor. In this case, set the tops aside in a mason jar and use them to make infusions to take advantage of the delicious strawberry flavor.
Create strawberry infusions with vinegar, water, wine, vodka, or even honey. Follow this same process explained below for vinegar to make strawberry infused vodka for a summer cocktail or a cold infused strawberry water for a cold drink on a hot day.
However, be aware that commercially grown conventional strawberries are loaded with harmful pesticides. If you aren't growing your own, always buy organic strawberries. Some fruits and vegetables you can get away with eating conventional but strawberries are not one of them. They are number one on EWG's dirty dozen list!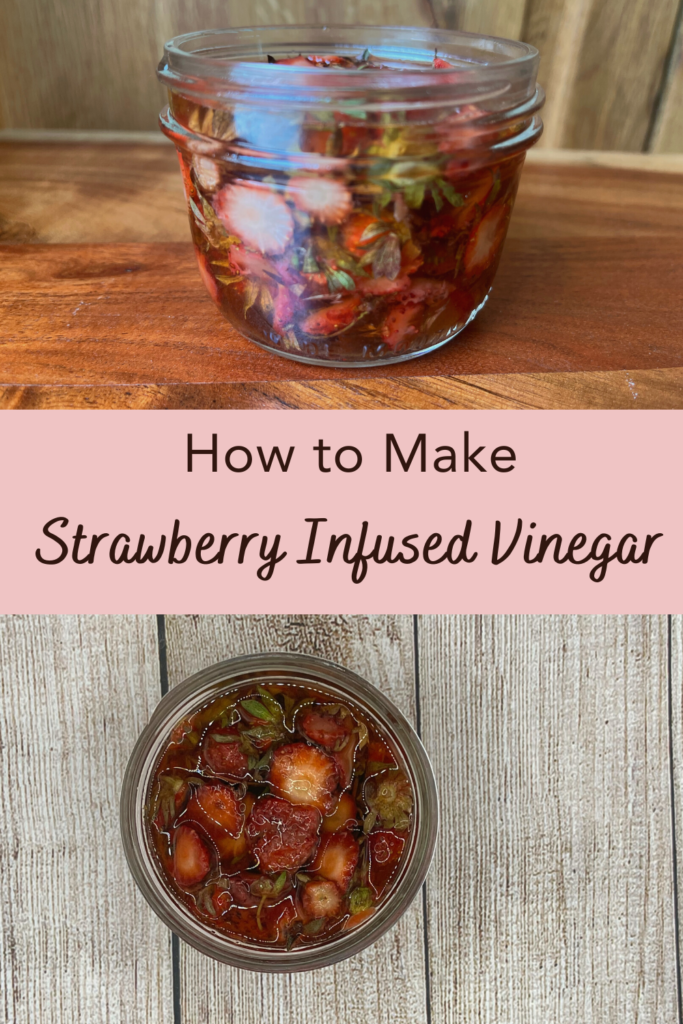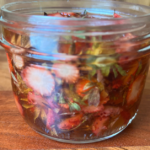 Strawberry Infused Vinegar
Print Recipe
Ingredients
Strawberry tops and/or chopped strawberries

Vinegar of your choice – rice, white wine, or apple cider vinegar work well

Fresh basil or mint leaves (optional)
Instructions
Fill the mason jar with strawberry tops and/or chopped strawberries

Cover the strawberry tops with vinegar to the top of the jar

Put a plastic cover (not metal) on the jar and shake

Let this jar sit for 3 days to 3 weeks to allow the vinegar to take on the strawberry flavor.

After some time as passed, strain out the strawberry tops and save the vinegar in a glass bottle.
Uses for Strawberry Infused Vinegar
Strawberry vinaigrette salad dressing (recipe below)
Strawberry mocktail
Add to a marinade for chicken or fish
Strawberry lime Shrub
Drizzle over cucumber salad
Thank you for reading this post, don't forget to subscribe.
You might also like these posts...